Combination Water Flosser and Electric Toothbrush
Best Water Flossers For: Complete dental care, with electric toothbrushing and water flossing in one convenient device.
Daily Dental Care Made Easy
Our all-in-one Complete Care combination units make it easy to perform your daily oral care routine.
Complete Care offers more effective flossing and brushing
The highly effective combination promotes a clean and healthy mouth
One convenient device saves counter space and power outlets
Options include a choice of sonic or oscillating toothbrushes
Explore the important features below, or browse our Complete Care models.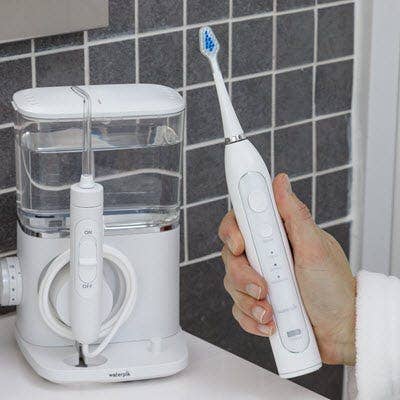 Complete Care - Important Features
---
Two Products in One
Electric toothbrushing + water flossing provides the ultimate in a clean and healthy mouth.
One power cord means less clutter on your bathroom counter.
Water Flosser
The unique combination of water pressure and pulsations cleans deep between the teeth and below the gumline.
Water flossing removes harmful bacteria from areas where brushing and string floss can't reach.
Electric Toothbrush Options
The sonic toothbrush option provides over 30,000 brush strokes per minute.
The oscillating toothbrush option features a round brush head and rotating action.
A pacer pauses every 30 seconds over 2 minutes to help you thoroughly brush (top, bottom, left, right).
Complete Care Quick Comparison
---