Cordless Water Flossers
Best Water Flossers For: Portability, small bathrooms, and cordless convenience.
Water Flossers may be something you've never heard of, but they're amazing for keeping your teeth clean in a way that's gentle and effective. They're designed to replace the need for flossing with a thread – which, if you've been using normal dental floss, is great for your teeth and saves a lot of plastic going to landfill.
Because brushing isn't usually able to get into the crevices between your teeth, flossing is essential for a good dental maintenance routine. What's more, water flossers are much easier to use than thread flossers and let you more effectively clean to prevent gum disease, tooth decay, and bleeding gums.
They're also great for cleaning between braces and dentures!
Our cordless water flossers take the benefits of water flossing and make them portable.
Cordless vs. Countertop Water Flossers
Compared to countertop water flossers, cordless models have the main benefit of ease. They trade off for slightly lower water pressure, but the added benefit of portability is a significant benefit to those with impaired mobility or lack of bathroom space.
The key differences between Cordless & Countertop Water Flossers is:
Cordless Water Flossers
Smaller water reservoir
Slightly lower overall water pressure
Easily portable – lightweight
Compact – so easily storable
Countertop Water Flossers
Large water reservoir
Higher overall water pressure
Not easily portable
Take up room
Whether you get a cordless or countertop flosser, there's no particular type that's always best: what's best is what suits your particular needs.
Battery Options
Waterpik® cordless water flossers offer:
Models that use 3 AA replaceable batteries
Models that use a rechargeable battery and include a charging adapter
Explore the important features below, or browse our cordless models.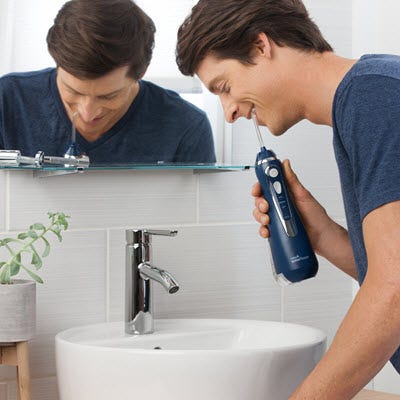 Cordless Water Flosser Quick Comparison
---
Cordless Water Flossers - Important Features
---
Water Reservoir Capacity
Depending on the model, the water reservoir offers 30-45 seconds of flossing time.
It is easy to refill the reservoir should you need to floss longer.
The removable reservoir can stay attached to the unit while filling.
Water Pressure Settings
Cordless water flossers offer 2 or 3 pressure settings, through an in-handle pressure control (most models) or special pressure tips.
Pressure ranges from 3.1 to 5.2 Bar.
Batteries, Portability, and Travel
Cordless water flossers have a small base and weigh less than countertop models.
Models with 3 AA batteries are easy to transport for travel and international use, because they don't require charging.
Models with a built-in rechargeable battery provide multiple uses on a single charge, without plugging the unit into an electrical outlet.
Shower Use
Waterproof cordless water flosser models can be used in the shower.