Countertop Water Flossers
Best Water Flossers For: More pressure settings to customise cleaning power, larger water reservoirs, and advanced features..
Types and Sizes of Countertop Water Flossers
Water flossing is a brilliant way to replace the traditional method of dental flossing with thread. Flossers are designed to effectively clean hard-to-reach places that you can't otherwise get to with brushing. As an extra bonus, they're better for the environment because they save on a lot of plastic normally used in floss thread from going to landfill!
There are two main types of water flossers: Countertop Water Flossers and Cordless Water Flossers. The main differences between the two are that countertop water flossers have higher overall water pressure capabilities and more robust settings – but they trade portability and size for these benefits. They're often larger than cordless units and need to be plugged into mains to operate.
But don't let that put you off, if you have the space for a countertop flosser then you can't beat its clean.
Types and Sizes of Countertop Water Flossers
Countertop water flossers offer a range of sizes and features.
Countertop water flossers provide the most pressure settings, largest water reservoirs, and advanced features
Small countertop water flossers include a balance of features in an even more compact size
We've recently developed a range of whitening water flossers to help you keep your teeth looking great while cleaning. They're great for everyone looking to regain their pearly smile, but perfect for people with implants, braces, crowns, or veneers.
Our flossers even come in a range of colour options to match your taste and style. Explore the important features of counter top water flossers below, or browse all Waterpik products.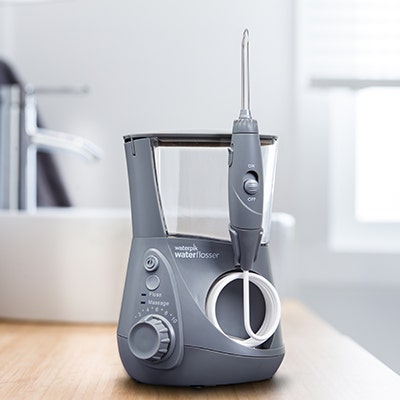 Countertop Water Flosser Quick Comparison
---
Advanced Countertop Water Flossers - Important Features
---
Large Capacity Water Reservoir
The water reservoir provides 90+ seconds of water flossing time.
Several countertop reservoirs include a lid.
Water Pressure Settings
To control flossing power for a custom clean, advanced countertop models offer 6 or 10 water pressure levels, depending on the model.
Pressure ranges from .68 to 6.2 or .68 to 6.89 Bar.
Water On/Off or Pause on Handle
In addition to a power switch, several models provide a convenient water control on the flosser handle.
Either push a button to pause the water flow or slide an on/off switch.
Extra Whitening
All Waterpik® Water Flossers help brighten your teeth by removing plaque and food residue.
The Waterpik® Whitening Water Flosser adds precision teeth whitening while you floss.
The Waterpik® Whitening Water Flosser mixes a gentle whitening agent with water to remove stains between the teeth and in hard-to-reach places.
Small Countertop Water Flosser Overview
---
Small Countertop Water Flossers - Important Features
---
Compact Design
Smaller footprint and portable design requires less space.
Reservoir provides 60+ seconds of water flossing time.
Reservoir can be turned over to act as a cover or placed over the unit for storage.
Water Pressure Settings
Water pressure control offers from 3 to 5 pressure levels.
Pressure ranges from 10 to 90 or 100 PSI.
Power Control
Smaller countertop models provide an on/off switch on the unit, rather than on the handle.
Some models are global voltage compatible.