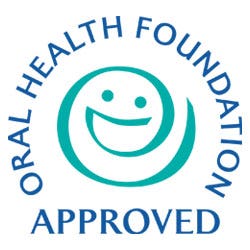 The Waterpik® Water Flosser has earnt Oral Health Foundation approval.
---
What is Oral Health Foundation accreditation?
Accreditation by the Oral Health Foundation is a highly prestigious accolade. It is the largest accreditation scheme in the world. The Oral Health Foundation evaluates oral healthcare products to ensure that claims made by manufacturers, including Waterpik®, are genuine. To achieve accreditation all products and packs are carefully studied by an independent panel of internationally recognised dental experts. These trusted academics confirm that every product is backed by reliable scientific evidence and any claims regarding its oral health benefits have not been exaggerated.
Oral Health Foundation accreditation provides the public and the dental profession with information, protection and education. It offers dental professionals and consumers an added level of assurance and confidence in the products that they recommend, buy and use.
How did Waterpik® earn the accreditation?
The Waterpik® Water Flosser has been evaluated in 75 scientific studies to date, and is backed by a strong body of evidence demonstrating safety and efficacy. Very few home care products are able to make this claim. The Waterpik® Water Flosser is clinically proven to be:
Waterpik® has earned Oral Health Foundation accreditation for the Cordless, Countertop and Combination water flosser models.
Waterpik® is also delighted that the Waterpik® Sonic-Fusion® has achieved Oral Health Foundation accreditation. This is the world's first water flossing toothbrush and is clinically proven to be:
Proven in laboratory tests to be twice as effective as brushing and flossing for reducing plaque, gingivitis and bleeding
Waterpik® has been a trusted name in dentistry for decades and is now honoured to display the Oral Health Foundation 'Approved' smiley-face logo on its product packs. Whether you are a dental professional recommending products to your patients or a consumer visiting a retailer, you can rely on Waterpik®.
Waterpik® oral healthcare products are available from Amazon and in store or online at Asda, Boots and Superdrug